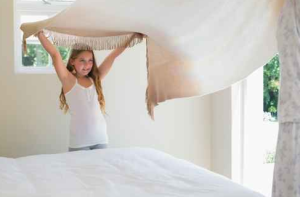 Children's selective hearing is a big source of frustration for parents! A child who is defiant, stubbornly refuses to cooperate and ignores simple requests can make every day feel like an uphill struggle. For some children "no" can be the default position when asked to do things. Below are some tips to encourage your child's cooperation.
Make a statement of fact that describes the problem rather than accusing or criticizing
"There's paint on the table"
"I can see wrappers on the floor"
Give information
"Clothes on the floor don't dry very quickly"
"Leaving lights on wastes electricity"
Describe how you feel
"I don't like hearing whining"
"It bothers me when I see clothes on the floor"
Reduce resistance by offering a choice about when or how something is done
"Would you like your hair done before or after breakfast?"
"Do you want to skip to the car like a pony or bound like a dog?"
Avoid lectures, use one word
Use 'when…then' technique to focus your child on what needs to get done
"When you've brushed your teeth, then I'll read you a story"
"As soon as your homework's done, then you can watch TV"
Write a note
Children love receiving notes. Be creative, notes don't just have to come from you!
"I like to be hung up. Please don't leave me on the floor. Thank you. Your towel."
Praise and reward cooperation
Praise all signs of cooperation with warmth and enthusiasm. Use a star chart to motivate your child for daily tasks such as getting up, brushing teeth, getting dressed
Finally, use the involvement technique to encourage helpful behaviour through positive attention.
Sometimes it's hard to act like the parent, especially when your children are being difficult. Contact Heather to help both you and our children create a stronger family relationship. 650.898.8367
https://wheelsofwellnessconsulting.com/wp-content/uploads/2014/12/Screenshot-2014-12-16-at-9.35.30-PM.png
321
487
hdanilov
https://wheelsofwellnessconsulting.com/wp-content/uploads/2019/05/SmallLogo.png
hdanilov
2014-12-17 05:37:39
2015-03-04 12:33:07
How to Encourage Cooperation