Support Services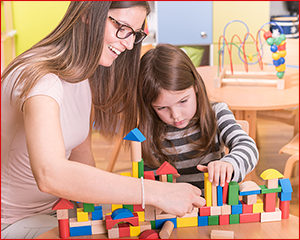 Children with intellectual, developmental, and behavioral challenges learn and process in unique ways. Consistent one-on-one reinforcement from an experienced mentor can make a world of difference in your child's ability to overcome obstacles and achieve personal and academic success.
We provide customized support based on your child's individualized goals set by caregivers and/or third-party professionals, such as IEP specialists, teachers, and therapists. Always mindful of best practices, we work with a variety of educational and therapy-based tools and programs, as well as visual & sensory aids, in order to maximize your child's comprehension and retention. Incorporating creative play strategies, music, and engaging games and activities that promote empowerment we work to build trust and boost confidence.
Early Intervention, Kindergarten Preparation Support
Children who enter kindergarten with a mastery of basic fundamentals set themselves up for success. They stay ahead of the curve from day one and receive a wonderful confidence boost from experiencing early academic success.
Upon an initial evaluation and consultation, we design a tailored program and work one-on-one with your child to ensure a successful transition from pre-school to kindergarten. Programs are built around the most crucial elements of the kindergarten curriculum, including:
Establishing phonemic awareness
Developing letter sound correspondence
Increasing word recognition
Introducing the reading cueing systems
Developing hand-writing mechanics
Introduction to basic mathematical concepts
Social and emotional awareness
"We are parents of 3 special needs and very high maintenance children (severe ADHD, Anxiety, Tourette Syndrome, stuttering, oppositional behavior…). Our home and school situation had gotten to the point of nearly tearing our family apart until Heather came into the picture.  She created a detailed, specific, step-by-step plan that taught us how to effectively manage and discipline our children.  We follow the plan and it works – 100% of the time.  Heather – quite literally – saved our family.  She is brilliant at assessing and advising on behavioral matters, and also on working with schools to get accommodations made for special needs children.  Heather consistently goes the extra mile for us and truly cares about her clients.  Her expertise, creativity, dedication, follow through and direct manner will work any family in need of help.  We have referred Heather to numerous families who have had the same amazing experience as we have had."
"Ms. Torres is one of the most professional people I have ever met. My son was having a difficult time at his new school. He was not listening to directions, running out of the classroom and breaking school property. Ms. Torres was able to provide the school with recommendations to best support him. My son has made huge strides and is now doing really well at his school. Without Ms. Torres support and knowledge this story wouldn't have had a happy ending."-Parents of a boy in 2nd grade diagnosed with ADHD and Sensory Processing Disorder